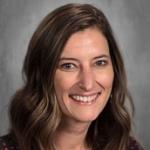 My name is Carrie Wiens and I have the pleasure of working at Eyestone as the school psychologist. I have been a member of the Integrated Services team at Eyestone since 2019, and this will be my 3rd year working in the Poudre School District. As a school psychologist, I collaborate with teachers, staff, and families to support students' learning in a variety of ways including building skills for emotion regulation, peer relationships, and classroom engagement, but my highest priority is helping kids feel safe and loved!
I was born and raised in Southern California and attended University of California, Santa Barbara for my undergraduate studies in Psychology and later for my Masters specialist graduate program in Counseling, Clinical, and School Psychology. As a nationally certified school psychologist, I have practiced in California and Colorado and while I enjoyed working in high school and middle schools, the elementary setting is my favorite!
Outside of work, I often spend my time listening to live music, trying new arts and crafts, reading, thrifting, and playing board games with friends. I also love exploring new coffee shops, ice cream parlors and restaurants in the Northern Colorado area with my husband and pup, Rudy!