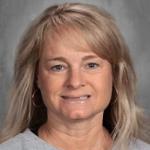 Physical Education Teacher
I have had the opportunity of teaching at Eyestone Elementary for 21 years - 13 years as a 4th grade teacher and 8 years as a PE teacher.
I was born and raised on a farm in Haxtun, Colorado. I attended CSU on a full-ride scholarship for cross country and track and graduated in 1992. I continued my education at UNC where I completed a Masters Degree in Elementary Education.
I am married with a daughter in high school and a son in middle school. My hobbies include running, biking, swimming, scrap booking and staying extremely busy as a mom! I am excited for another year of instilling the importance of fitness in the daily lives of our children and staff at Eyestone!