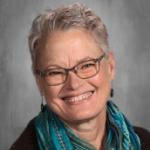 Hi - I'm "Miss Mary" here at Eyestone and I am enjoying my fourth year as the Secretary and Registrar. Most of my duties help support parents and their children - beginning with registration, taking care of attendance, assisting with bus passes and transportation, and school transfers/withdrawals.
Your children will - at some point - see me at school, either in the Health Office as I fill in as Health Tech in the mornings and throughout the day, or when they find me "wandering" the halls on one errand or another. I love being a resource for parents, students and staff and would like to hear from you if there is any information you need. You are welcome to find me at the front desk! It is a great pleasure to look forward to working with our students, parents and staff every day - I am very fortunate and I stay plenty busy!
I am a 4th-generation Colorado native, born in Boulder. Its been said that my pioneering great-grandparents passed dirt down through the generations in their veins, giving all of us a love of gardening and working with the earth. My other favorite activities include knitting, reading, spending time with my various animals (horses, donkeys, chickens, dogs, and cat), and especially having time together with my 3 children and grandchildren.